Come celebrate the 100th birthday of the Belle of Louisville!
Posted by Timothy Mattingly on Friday, October 17, 2014 at 9:00 AM
By Timothy Mattingly / October 17, 2014
Comment
"Happy birthday to you! Happy birthday to you! Happy birthday dear, Belle of Louisville! Happy birthday to you!" The historic Belle of Louisville is turning 100 years old and you can be part of the celebration! Be sure to head down to the Ohio River at 130pm this Saturday October 18th to celebrate a century of what is now known as America's last true Mississippi river steamboat still in operation.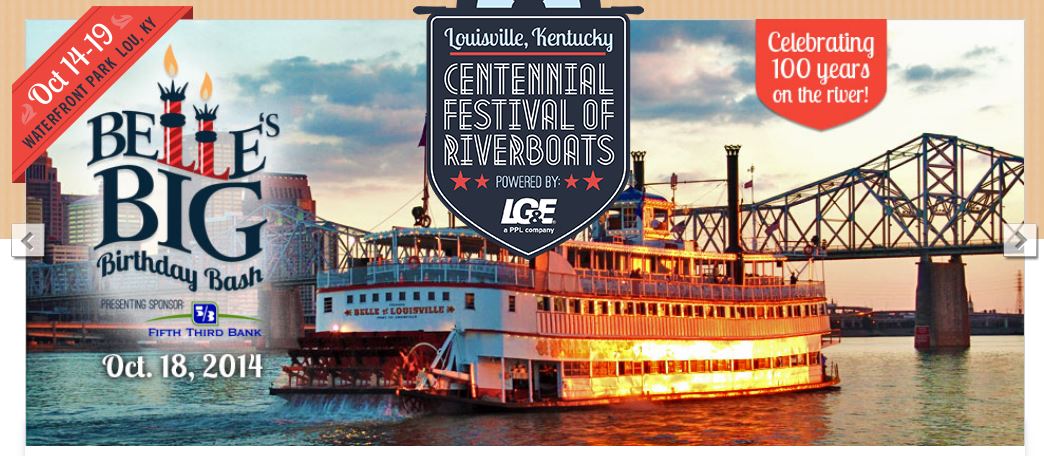 A Once in a Lifetime Celebration
The Belle of Louisville has been a staple of Louisville's rich history for an entire century. The infamous steamboat has carried nearly 7 million people up and down the Ohio river for 100 years and there are no signs of stopping anytime soon. The 100th birthday celebration of the Belle of Louisville is truly a once in a lifetime celebration that you will not want to miss! On Saturday October 18th the night sky will be filled with fireworks as everyone in attendance sings happy birthday to the Belle of Louisville!
The birthday celebration is all part of the Centennial Festival of Riverboats, taking place from October 14th to October 19th. During this time period riverboats will serve as gorgeous backdrops to a wonderful festival on the Waterfront filled with food, bourbon, music, and more! If you want to be on the Belle of Louisville for the birthday party fireworks cruise tickets will be $132 and can be purchased on the Festival of River Boats website.
While on the Belle of Louisville check out beautiful Jeffersonville, Indiana
As you enjoy the beautiful scenery of downtown Louisville and the Ohio River be sure to turn around and observe the gorgeous waterfront of Southern Indiana. Imagine being minutes away from a major metro downtown area near the water where the real estate can be much more affordable; this is Southern Indiana in a nutshell!
There is no shortage of beautiful homes in Southern Indiana, particularly in New Albany, Clarksville, Georgetown, and other surrounding areas. If you are interested in seeing homes in Southern Indiana give me a call and I will set up a private showing for you - (502) 759-6355!