Don't miss the Zombie Ball at Culbertson Mansion on Saturday!
Posted by Timothy Mattingly on Thursday, September 25, 2014 at 4:42 PM
By Timothy Mattingly / September 25, 2014
Comment
It's not even October yet and the zombies are coming already!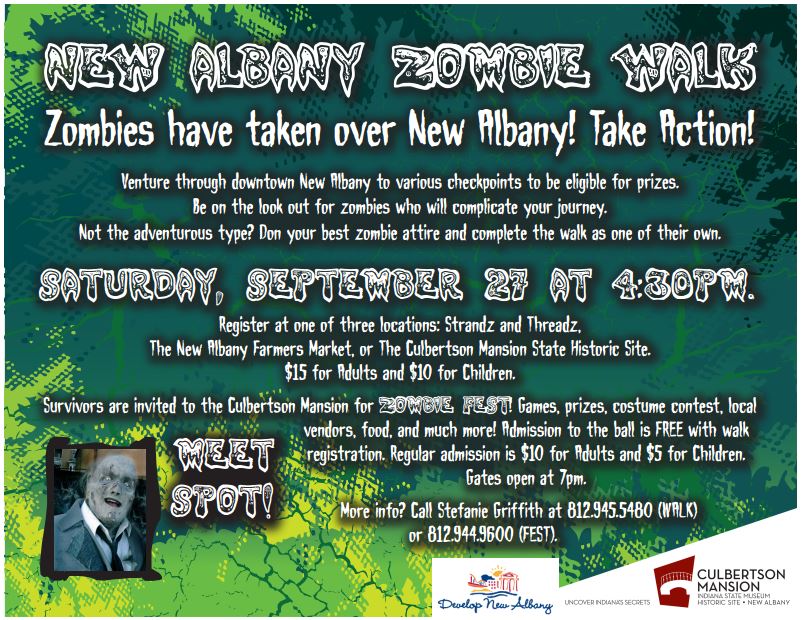 Kick off the spooky Halloween season in Southern Indiana by attending the Zombie Ball at Culbertson Mansion! The event will take place this Saturday, September 27th from 7pm to 11pm and is open to children and adults of all ages.
The 2014 Zombie Ball will serve as the ending point of the annual New Albany Zombie Walk. Zombie Walk participants will have the opportunity to trek through New Albany towards the Culbertson Mansion and attempt to avoid the hiding zombies in the process! There will be various checkpoints set up on your journey to Culbertson with treats and prizes. If running from zombies isn't your thing feel free to pull together your best zombie outfit to complete the walk!
The Zombie Ball at Culbertson Mansion will be an evening filled with games, a costume contest, delicious food, and so much more. You can register for the Zombie Walk at three different locations in New Albany:
Strandz and Threadz
The New Albany Farmers Market
The Culbertson Mansion State Historic Site
Tickets for the walk are $15 for adults and only $10 for children; admission to the Zombie Ball is FREE when you participate in the walk.
Are you on the market looking to purchase a new home? On your journey to the Culbertson Mansion on Saturday you will come across some of the beautiful homes that New Albany and Southern Indiana has to offer. Please search my site to view homes for sale in New Albany and give me a call when you are ready to see them in person - (502) 759-6355!