Help 'keep the lights on' at the 2014 Edstravaganza!
Posted by Timothy Mattingly on Monday, November 3, 2014 at 9:00 AM
By Timothy Mattingly / November 3, 2014
Comment
Can you imagine a world without the electric light bulb? In addition to the light bulb Thomas Edison contributed to society with other important inventions, such as the phonograph and the motion picture camera. Now you can come out to the Thomas Edison House and celebrate his life at the 2014 Edstravaganza!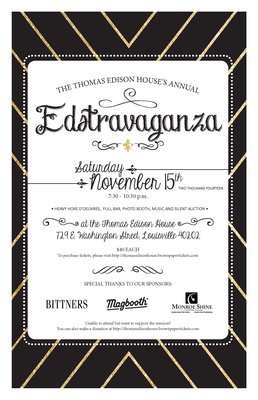 Help keep the lights on!
Edstravaganza is an annual event held at the Thomas Edison House that 'strives to inspire creativity through the exploration of history, science and communication'. The event draws in nearly 5,000 guests and is a great way to learn about Thomas Edison in a meaningful and hands-on manner. This event alone helps raise 30% of the annual operating budget of the Thomas Edison House to help continue educating children and adults year-round.
Admission to Edstravaganza 2014 is $40 per person. Included with your admission is a plentiful amount of hors d'oeuvres, a full bar, photo booth, and silent auction. So be sure to come out to the Thomas Edison House to raise funds to keep the lights on!
While the lights are on, check out Louisville's downtown condos!
The Thomas Edison House in downtown Louisville is only blocks away from some of the most pristine condos in the area. These downtown Louisville condos for sale offer convenience, superb location, comfort, and more luxury than you could ask for. If you are intersted in searching for Louisville downtown condos for sale check out my website, PremierHomesTeam.com, and give me a call to set up a private showing - (502) 759-6355!