January 2016 Market Update
Posted by Timothy Mattingly on Wednesday, February 17, 2016 at 3:22 PM
By Timothy Mattingly / February 17, 2016
Comment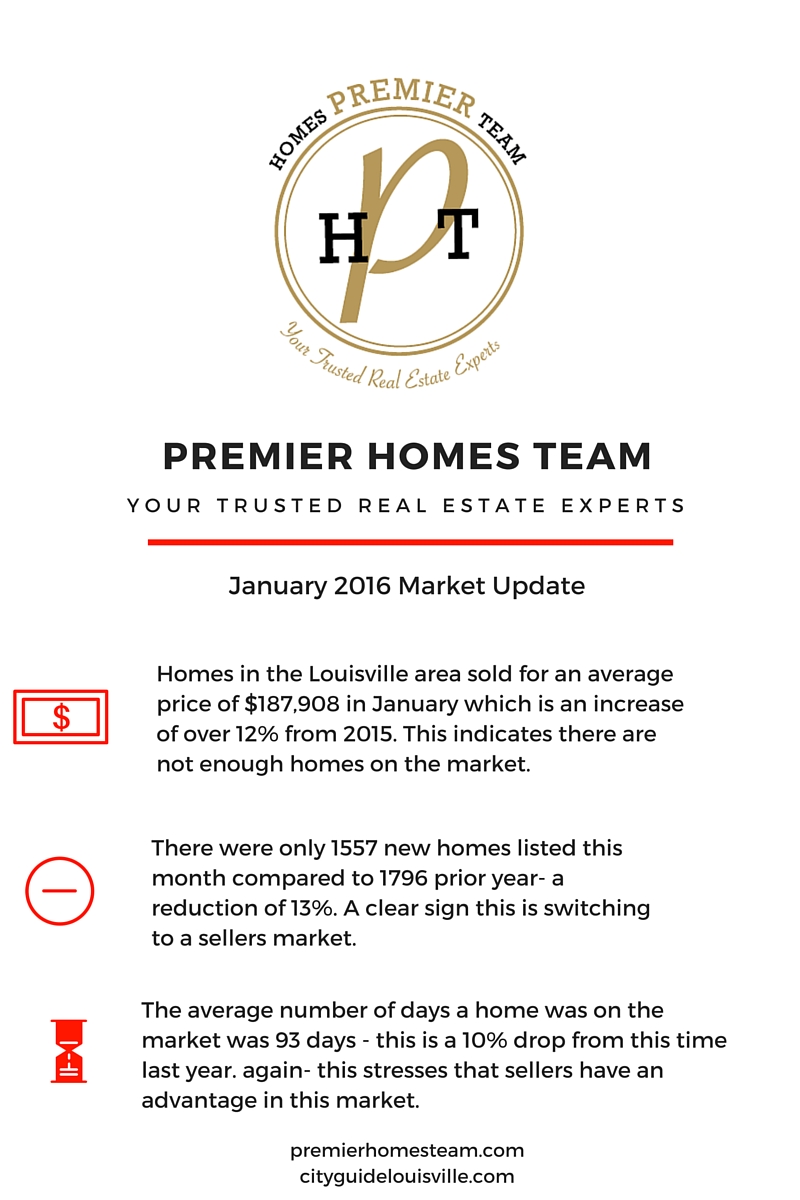 The January market for Louisville continues a several month trend of tightening inventory and increases in average sales prices. Listings in the Louisville market are down over 13% from prior year and prices are up about the same amount. This is really looking like a sellers market- with many more buyers than sellers. When the market transitions to favor sellers- prices increase and a fear of a bubble begins to take shape- much like in 208-2009 when prices exceeded value.
We could also be seeing a tightening of the market due to sellers still holding on to those homes they struggled to keep in 2010 and 2011 when the market crashed and foreclosures and short sales flooded the market. Some of those same home owners are still a bit upside down despite the increase in average sales price since that era saw 18% increases in prices followed by a 20+% decrease. The Louisville market generally lags the national market in price increases and supply but in this current market Louisville is outpacing the nation in price increases.
Where will this lead? If home owners continue to hold onto their homes we will see steady price increases for the homes listed. We will also start to see fewer buyers enter the market and continue to rent (even though rent prices are up double digits as well) increase. Once these buyers settle into the rentals there will be fewer homes sold.
What we need is a 5 month supply of homes to be stable and Louisville right now is at less than 3.5 currently. As the absorption rate decreases there are fewer homes for sale, prices will continue to increase and buyers will again over pay for homes.
The simple solution is more owners need to sell- if you purchased a home in 2000 to 2005 it is time to move! You will have equity and will be able to move up or down in home fairly easily. If you bought in 2006-2010 do not despair- your home is now balanced in price. If you bought in 2011 or later is may be time to buy some investment property since rents are skyrocketing and the market is tight.
If you have any questions about listing or buying a home give us a call. Premier Homes Team.